Guest lecture by Jaana Parviainen: Urban choreographies with smart technologies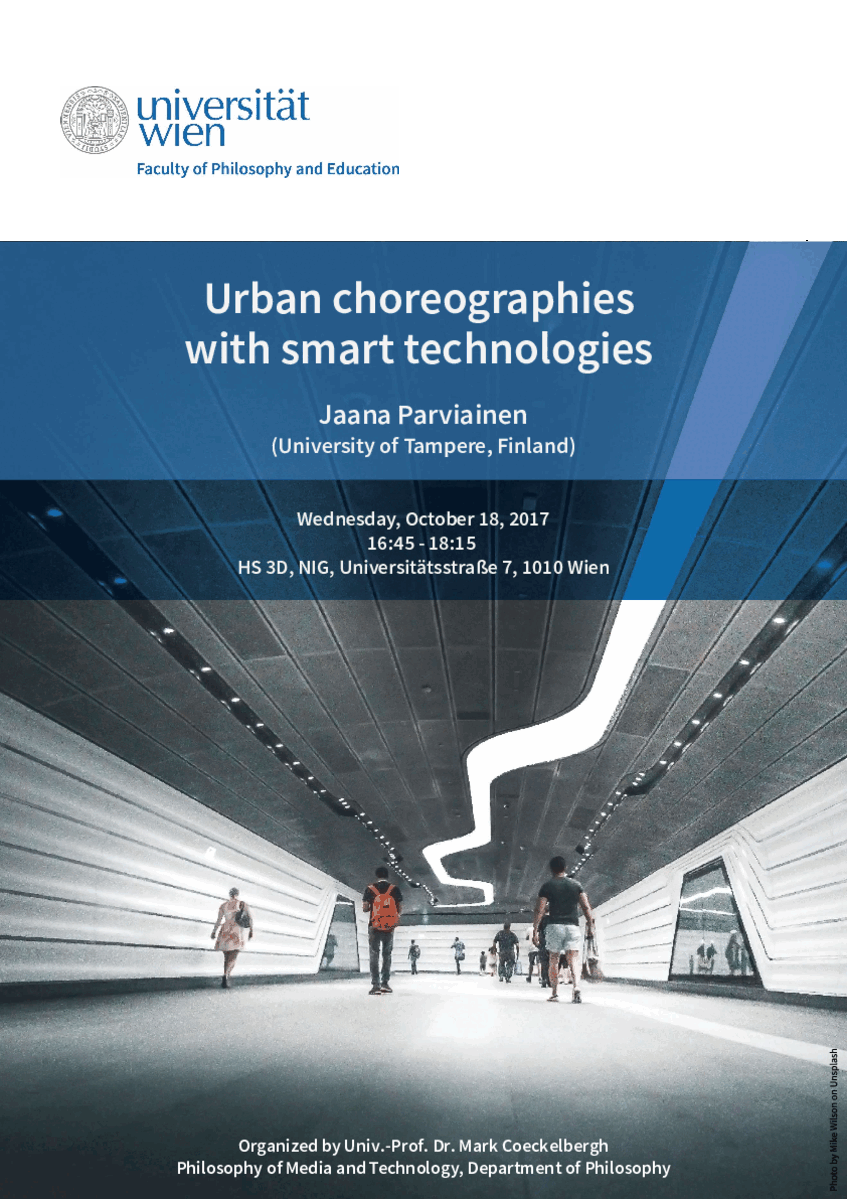 Guest lecture by Jaana Parviainen: Urban choreographies with smart technologies
Wednesday, October 18, 2017
16:45 - 18:15
HS 3D, NIG, Universitätsstraße 7, 1010 Wien
Abstract. People in cities live their daily lives "on the move", following habitual paths with stopping points at their destination sites. These "movement trajectories", forming urban choreographies, are more and more interconnected by use of digital devices. By applying the phenomenology of the body and recent theoretical discussions of choreography and kinaesthesia, I will approach urban choreographies in the context of the smart city, addressing questions of urban power dynamics.
Jaana Parviainen is a senior researcher at the Research Centre for Knowledge, Science, Technology and Innovation Studies (TaSTI), University of Tampere, Finland. Her main research interests lie in the areas of body studies, phenomenology, social epistemology, technology and robots and movement studies. She is currently involved in the research project Robots and the Future of Welfare Services (ROSE). Amongst others, she previously worked in the research projects Choreography of User Interfaces: Body, Space and Movement in Interaction Design (CHORUS) and Bodily Knowledge in Physical Exercise (KNOWBOD).
Workshop "Wittgenstein and Philosophy of Technology"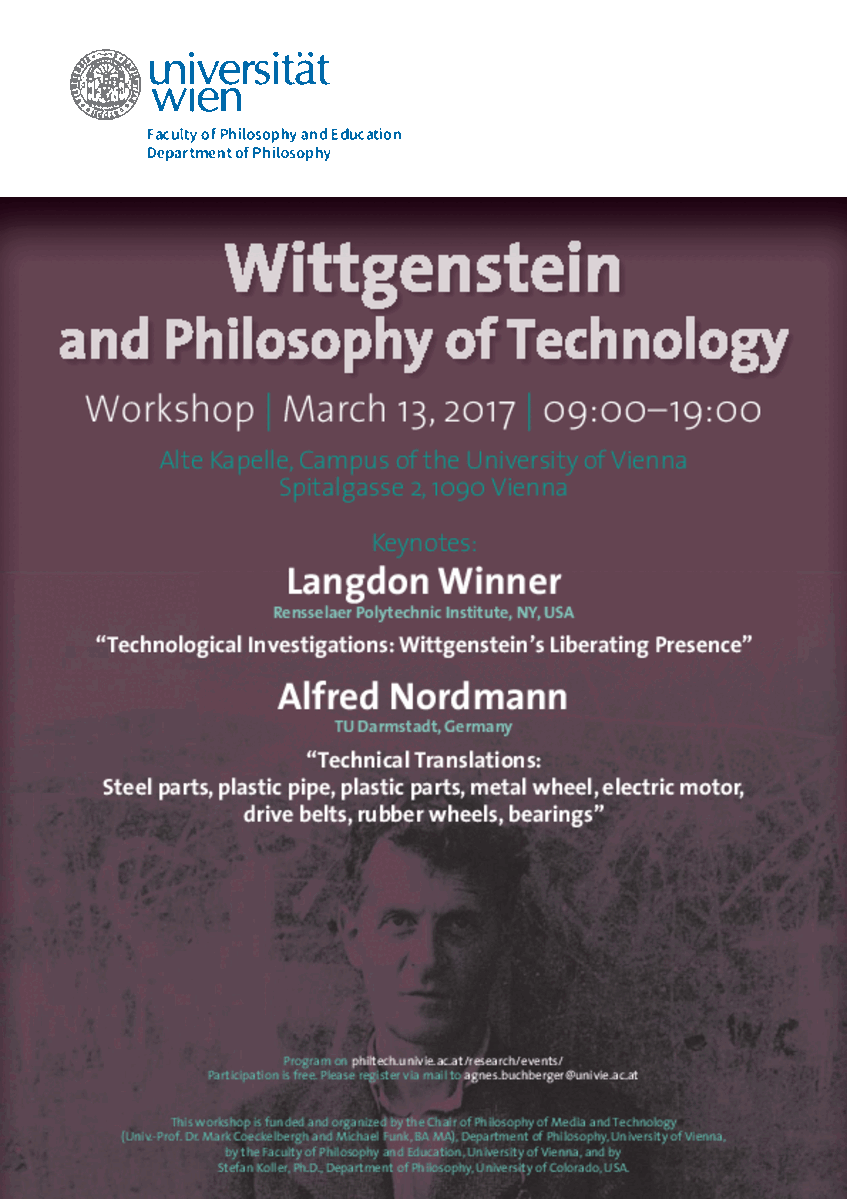 Workshop "Wittgenstein and Philosophy of Technology"
Workshop Venue
Alte Kapelle, Campus of the University of Vienna
Spitalgasse 2, 1090 Wien
Find a map of the Campus here (venue marked with a red circle).
Please note that the venue (a historic building) unfortunately provides only limited infrastructure to accommodate disabled participants. If you require assistance to access the venue, we ask that you kindly contact us prior to the event (e.g. when you register) so we can make proper arrangements.
Registration
Participation is free but please register via mail to agnes [dot] buchberger [at] univie [dot] ac [dot] at.
Program
09:00 - 09:30
Reception and Welcome Remarks
09:30 - 10:30

Keynote I:

Langdon Winner

"Technological Investigations: Wittgenstein's Liberating Presence"
10:30 - 10:45

Break

10:45 - 12:45

Panel I "Technologies as Forms of Life"

"Technological Environments as Form of Life: Wittgenstein's Linguistic Theory and Philosophy of Technology" Ingrid Böck, TU Graz

"From Form of Life to the Technologically Extended (Social) Mind" Michał Piekarski, Cardinal Stefan Wyszyński University Warsaw

"Technology and disease definition: Modes of this complex form of life" Lynette Reid, Dalhousie University

"Technology Games and Forms of Life" Mark Coeckelbergh, University of Vienna
12:45 - 14:00

Lunch

14:00 - 15:30

Panel II "Rule Following and Technologies of Self-Cognition"

"Artifacts as Rules: Wittgenstein and the Sociology of Technology" Mark Thomas Young, University of Bergen

"Information Technology, Rule-Following, and Embodied Consciousness" Christoph Durt, University of Vienna

"Wittgenstein on the idea of Mental Mechanisms and Information-Storing
Technologies" Thomas Raleigh, University of Vienna, King's College London
15:30 - 15:45

Break

15:45 - 17:15

Panel III "Cultures of Tool Use"

"The Meaning of Use: Artifactual Holism versus Artifactual Compositionalism" Stefan Koller, University of Colorado

"Wittgenstein and Technologies of the Self" Gerard Meagher, University of Limerick

"Wittgenstein, Transcendental Techniques and the Grammar of Jazz Improvisation" Michael Funk, University of Vienna
17:15 - 17:30

Musical Intermezzo and Break

17:30 - 18:30

Keynote II:

Alfred Nordmann

"Technical Translations: Steel parts, plastic pipe, plastic parts, metal wheel, electric motor, drive belts, rubber wheels, bearings"
18:30 - 19:00

Podium / Closing Debate:

"Talking Robots and Silent Meaning – Philosophy of Technology with and without Wittgenstein" Langdon Winner, Alfred Nordmann & Mark Coeckelbergh
20:00

Dinner
Plants and Robots - New Directions in Relational Ethics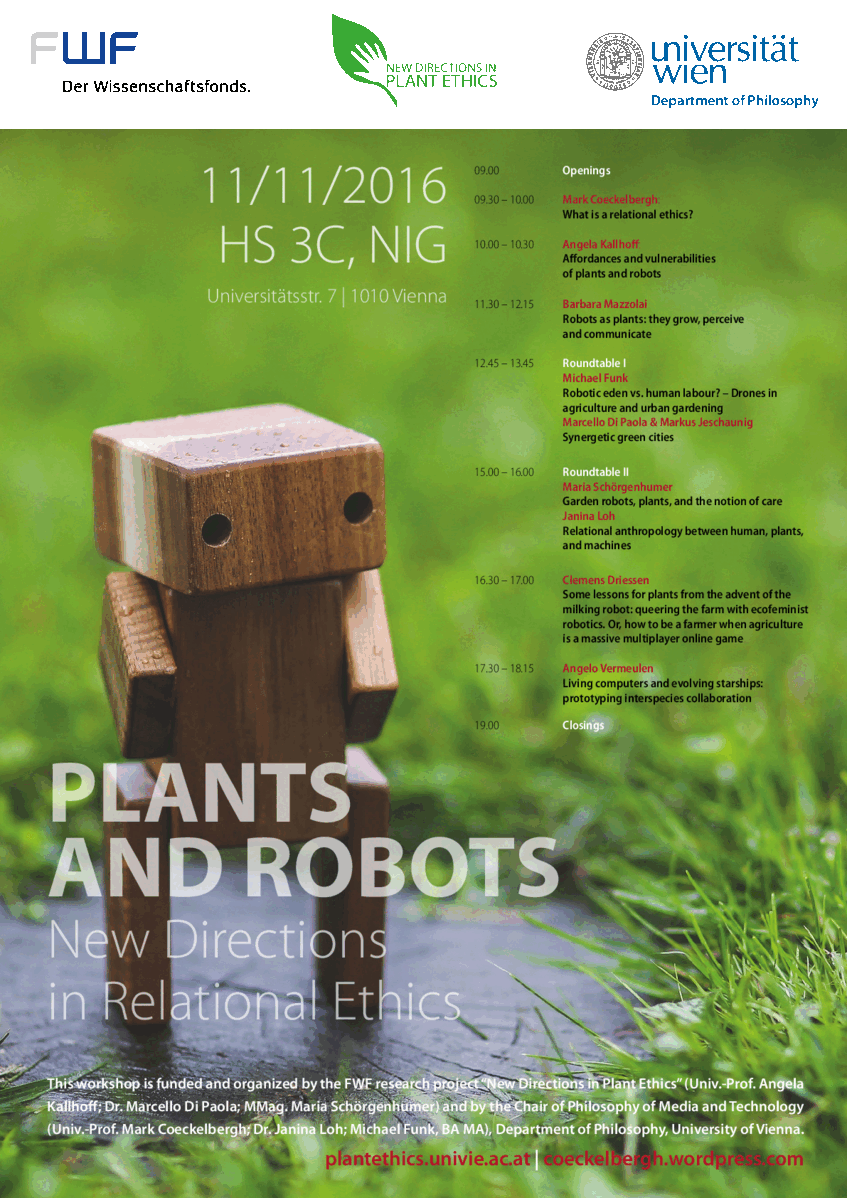 Plants and Robots - New Directions in Relational Ethics
Workshop organized by Angela Kallhoff and Mark Coeckelbergh and their teams.
Location: HS 3D, NIG, Universitätsstraße 7, 1010 Wien
Ongoing developments in robotics and plant sciences put pressure on traditional dichotomies like biology/technology, natural/artificial, living/non-living, autonomic/automatic. The blurring of these categories generates new ontological and ethical questions.
Are plants and robots two categorically different phenomena? How are we to think of new possibilities like robotic ecosystems, robot plants, and the networking of non-human intelligences? And how are we to choose, act, and live virtuously when confronting such novelties?
In this workshop, we explore relational accounts as promising ways to cross established borders, re-elaborate distinctions and possibly build new philosophical bridges. We do so by discussing new ways of looking at, thinking about, and engaging and dealing with plants and robots from different perspectives in philosophy, robotics, and art.
Program: here.
Guest talk by David J. Gunkel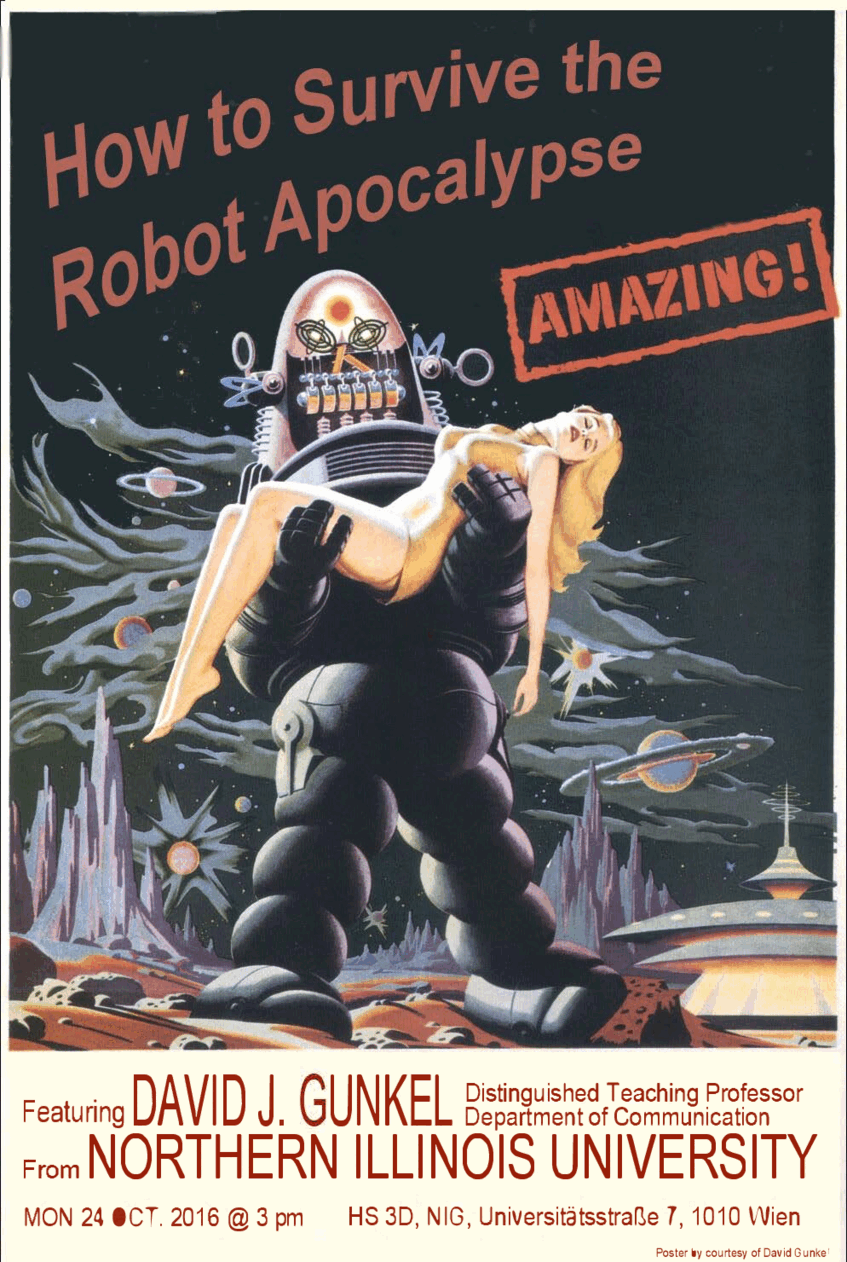 Guest talk by David J. Gunkel
How to Survive the Robot Apocalypse
Monday, October 24, 2016
15:00 - 16:30
at HS 3D, NIG, Universitätsstraße 7, 1010 Vienna
David J. Gunkel is Presidential Teaching Professor of Communication Studies at the Northern Illinois University, USA. His research includes ethical aspects of information and communication technologies and cyberculture. Detailed information about the lecturer is to be found here.